Last Updated on August 24, 2022 by smiling-coffee-snob
Specialty Coffee in Bangkok is everywhere. New cafes keep popping up and long time roasters and barista's keep improving their skills to take Thai coffee to the next level.
While most of the best arabica beans are grown near Chiang Mai and served in one of their many coffee shops, many are shipped to Bangkok where you can find the best the country has to offer. This is by no means an exhaustive list, but at least one of these seven cafes sure to make you love Bangkok's coffee culture.
Where to get specialty coffee in Bangkok
If you read my last article about coffee in Thailand, you already know about Roots Coffee and Brave Coffee Roasters. Either of them are a great starting point, but for this article I'm going to take you to some other places around the city.
I've included shops in many different neighborhoods, so no matter where you're staying, you should be able to try at least one… or visit them all, if you get a chance.
1/7 ซอย สุขุมวิท 63 – ซอย เอกมัย 2 Phra Khanong Nuea, Watthana, Bangkok 10110, Thailand
If you go to Roots, which I already mentioned is one of the original spots for specialty coffee in Bangkok, you may want to stop here before or after. In fact, you may want to have a full day of cafe hopping because this part of the city is full of killer coffee options.
Ink & Lion is a small roaster with both Thai and imported beans available. There's great atmosphere with local art on the walls, a large common table, and smaller tables throughout the shop. It's a great place to work, read a book, or socialize.
This is also a great place to stock up on filters, beans, and other home coffee brewing gear if you run out. They have roasts for both filter coffee or espresso, depending on how you brew.
35/18 Phayathai Rd, Khwaeng Thanon Phaya Thai, Khet Ratchathewi, Krung Thep Maha Nakhon 10400, Thailand
On the other side of Bangkok, surrounded by some of the best street food in the city, you'll find Factory Coffee. Award winning barista's brew some of the best specialty coffee in Bangkok alongside a number of unique, cocktail-like coffee drinks. People seem to love their bottled cold brew, too.
The specialty coffee bean menu is really extensive and features a wide range of beans from around the world, including a number of Cup of Excellence beans. But, they know how to make sweet drinks, too.
45 ถนน พระราม 4 Khwaeng Pom Prap, Khet Pom Prap Sattru Phai, Krung Thep Maha Nakhon 10100, Thailand
This is a cozy little place in Chinatown and makes a great coffee stop if you're in the area. As you can see in the photo, coffee gear adorns the shelves behind the bar and they have a nice collection of beans available for pour overs.
They also make espresso based drinks and have a small seating area. Great to hang out for a little while if there's a seat available.
1131 Ploenchit Rd | Central Embassy, Floor 6th, Open House, Bangkok 10330, Thailand
Up on the top floor of one of Bangkok's most luxurious shopping malls is a new space called Open House, which combines a large book store with numerous cafes, restaurants, and a co-working space.
Right in the middle of it is Coffeeology. I was surprised to find that they have a nice collection of local beans available for pour overs and know how to make a good latte. Love the pour over setup along the bar and the cafe space is a great place to work or hang out for a while.
Tai Ping Tower 582/5 Ekkamai Rd Klongtun Neau Wattana Bangkok 10260, Thailand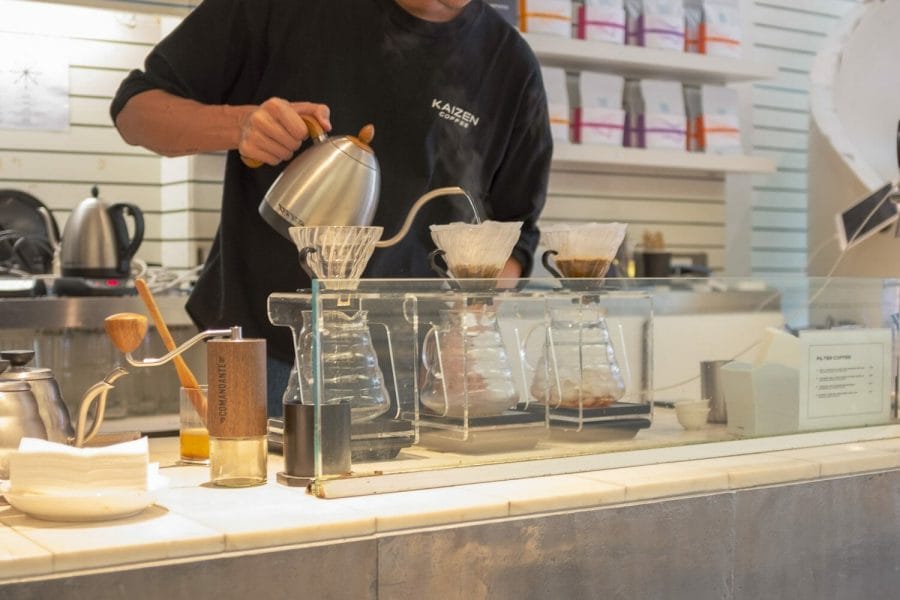 Another cool local coffee roaster is Kaizen. They have a number of different beans and roasts used for their pour overs and espresso based drinks. The cafe has a minimal vibe and two floors of seating.
They also sell their own specialty blends of coffee beans and it's a nice place to work or hang out for a while.
Shinsen Fish Markket, Khlong Tan Nuea, Watthana, Bangkok 10110, Thailand
While the places I've mentioned so far are roasters, grind size features beans from a number of different roasters. You can get the usual brewed and espresso based drinks with both Thai and import beans.
They really stood out for their awesome design. Colorful walls with murals on each side are the first thing that stands out. Then, there's all the bikes and coffee equipment neatly arranged throughout the store… Great place to buy beans, too.
61/ 45/39 Sukhumvit 26 Alley, Khwaeng Khlong Tan, Khet Khlong Toei, Krung Thep Maha Nakhon 10110, Thailand
Hello Strangers stands out for the cozy atmosphere and killer espresso based drinks. Inside there are magazines to browse, artwork on the walls, and plenty of space to chill out for a couple hours.
For anyone who loves flat whites and working from their laptop, this is one of the better places in the city.
You'll love the specialty coffee in Bangkok
Most people don't think of Bangkok as a coffee city, but in reality it's one of the best. Thailand is one of the few countries that both produces coffee and also serves the best beans locally. Bangkok will introduce you to the best of it, but be sure to go to Chiang Mai, which I'll cover next.