Last Updated on April 8, 2023 by smiling-coffee-snob
Specialty coffee in Bangkok continues to amaze me. As both a prime tourist destination and the capital city of a coffee producing country Bangkok coffee shops have a unique mix of global influence and local taste. High-quality Thai coffee beans are widely available, but you can find rare imported beans, too.
Beyond the actual coffee beans, Bangkok has a great slow coffee scene. Many cafes go beyond the standard pour over option and offer siphons, multiple pour over brewers, and the Aeropress. Some even pull manual espresso shots using machines like the Rok and Robot.
Where to find specialty coffee in Bangkok
You'll find an overwhelming array of specialty coffee in Bangkok, so it can be a challenge to find the best places to go. This is a huge, spread out city with heavy traffic so you'll need to take that into consideration when visiting multiple places.
This guide will help you find both the central cafes and the ones that are harder to reach. I originally published it nearly five years ago and tried to narrow it down to seven options, but that just doesn't seem reasonable anymore. There are just too many great coffee shops and roasters here.
That means it's time for an update. Rather than trying to create a new short list, I'm going to go in the opposite direction and create the ultimate guide to specialty coffee in Bangkok. I will periodically update this guide to include new coffee options.
As far as the list is concerned, the numbers are not a ranking. I've tried to group places together so the map is easier to read. I start in Central Bangkok and the numbers get higher as they move out from there.
1. Brave Coffee Roasters
Inside of Siam Discovery, one of the many connected malls in Central Bangkok, is a branch of Brave Coffee Roasters. They have a wide range of both Thai and imported beans for pour overs, as well as the other usual coffee drinks.
They also have a smaller branch in the Sam Yan neighborhood, but the central location here, combined with the larger space, make this one easier for most people. Just be warned, the shopping core of Bangkok is like nothing you ever seen before. There are a number of huge shopping malls connected by a maze of both indoor and outdoor walkways so it can be a little challenging to find the right place…
2. Gallery Coffee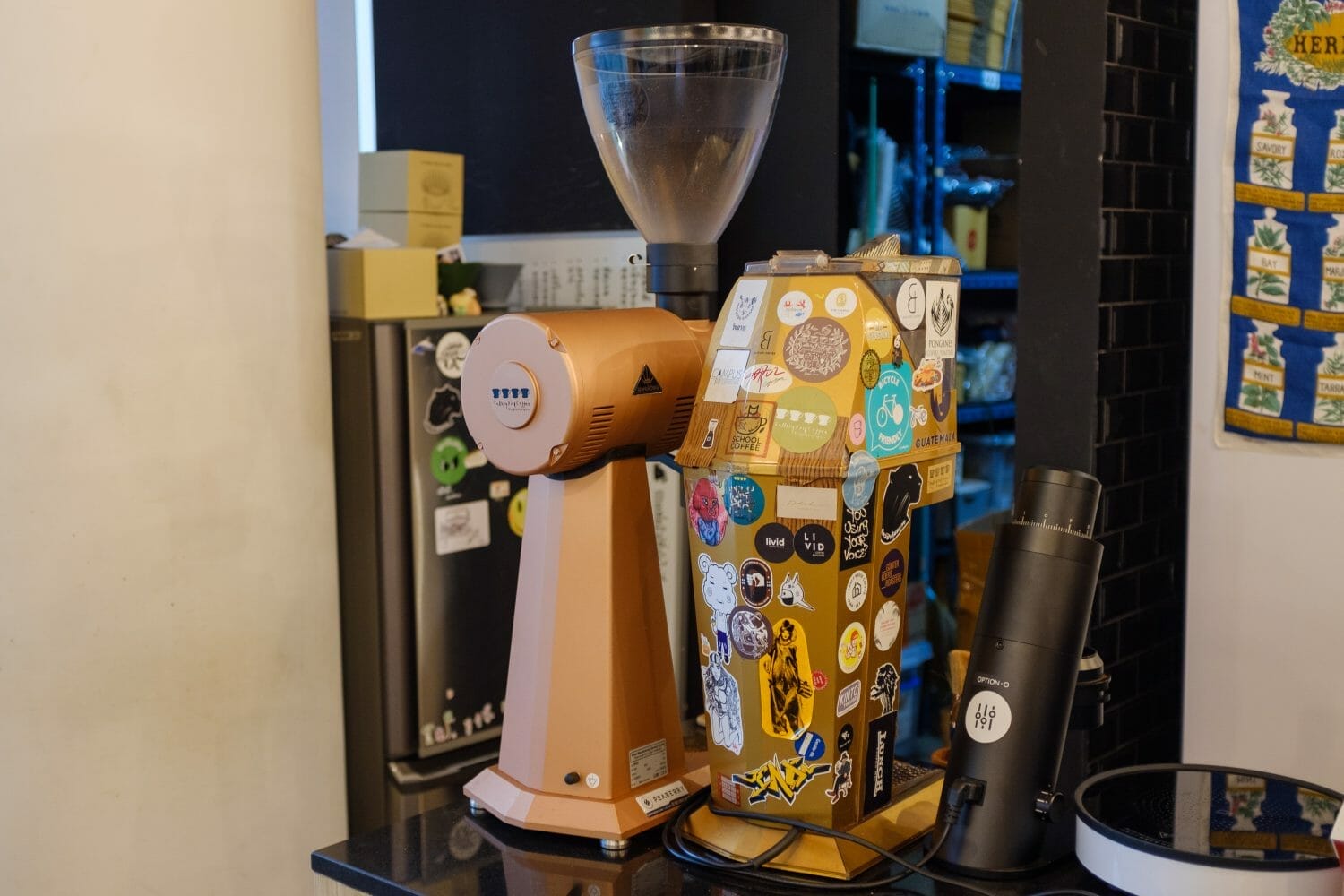 Also in Central Bangkok is Gallery Coffee, one of my favorite places for pour over coffee. They always have a great selection of Thai coffee beans along with a number of imported beans. Not only do they brew fantastic drip coffee, but they are a great value for the quality, too. After you explore the different specialty coffee roasters around the city the value will really stand out.
The cafe also has a cozy design filled with ceramic plants and coffee gear throughout the place. There's a decent amount of seating and lots of big windows overlooking the bustling city outside. It also happens to be located inside the Bangkok Art and Culture Center which always has great art and photography exhibits, as well as a number of other shops.
3. Red Diamond
Specialty roaster Red Diamond has a number of locations throughout Bangkok, where they serve a wide range of different blends from both Thailand and abroad. They actually have two locations within Central World (you guessed it, another huge shopping mall).
If you're in the area, the fifth floor location was the stand out for me. It's got a bar with various coffee equipment all around and a great central location for whatever else you might want to see.
4. Coffeeology
Up on the top floor of one of Bangkok's most luxurious shopping malls is a space called Open House, which combines a large book store with numerous cafes, restaurants, and a co-working space.
Right in the middle of it all is Coffeeology. I was surprised to find that they have a nice collection of local beans available for pour overs and know how to make a good latte. Love the pour over setup along the bar and the cafe space is a great place to work or hang out for a while.
5. WWA Portal
Nestled down the side streets bordering Terminal 21, another huge shopping mall (which also has a fantastic food court, fyi…) is WWA Portal. This small, modern cafe has a minimal vibe and a huge variety of coffee beans.
Their menu is from both Thailand and abroad and is designed to suit a wide range of tastes. They have a variety of both pour over and espresso options, plus a lot unique drinks of their own.
6. Invisible Coffee Room
Also near Terminal 21, but in the opposite direction from WWA, is Invisible Coffee Room. It's a small cafe with a low-key vibe serving up a variety of coffee drinks and selling some coffee gear, too. (Those filters on display also happen to be some of my favorite filters for the V60, which I discussed more in my V60 guide).
They stand out for offering coffees from top-notch European roasters and I couldn't help but notice they grind pour overs by hand using a Comandante hand grinder. I tried my first Chinese coffee here, roasted by Square Mile Coffee from the U.K., and it didn't disappoint.
7. Artis Coffee
If you want killer coffee right near the center of Bangkok, Artis is one of the best options around. Interestingly, it's owned by an Oakland, California based roaster of the same name. As far as I know this is the only other location.
They roast their own coffee on site and have a great selection of pour overs from around the globe, plus a number of other specialty espresso based drinks. They have solid food options, too. Beyond that, this is a great place to work from if you can find a seat.
8. PAGA Microroastery
When it comes to specialty coffee in Bangkok, PAGA takes a different approach to most other places. They exclusively offer imported coffee beans and seek out the best in the world. They have rare offerings you won't find elsewhere and have mastered the entire brewing process from the minerals in the water to the brewing equipment. Beyond that, the owner is a barista champion who has customized every aspect of the coffee offerings.
They have unique offerings like Panamanian Geisha's (some of the most popular beans on earth) and Sudan Rume (a rare, but flavorful breed of Arabica) that make fantastic filter coffee. Just be aware, these rare coffees are some of the most expensive in Bangkok, but there's also no where else like it.
9. Ceresia
Just off of Sukhumvit road in a popular Japanese district is Ceresia Coffee roasters. They are right across from a Japanese supermarket and, as you may have guessed by now, it's a Japanese style cafe.
It has a cozy, homey feel to it and attracts a diverse range of students, families, locals, and tourists. They offer a nice selection of pastries and freshly roasted Japanese style coffees which are a little darker and stronger—which is great with pastries.
10. %Arabica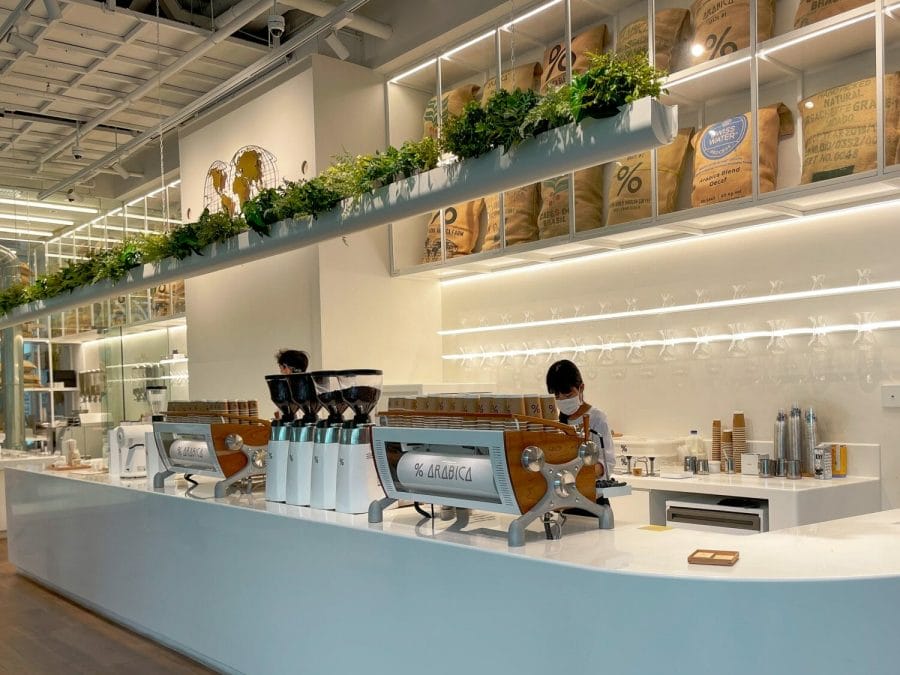 Kyoto-based Arabica seems to have taken over much of the world—Asia, in particular, has multiple locations around Bangkok, mostly in prime shopping centers.
They really stand out for their distinctive design and logo, but they also roast and brew fantastic coffees from around the world. Each cafe has it's own appeal, but I think the Em Quartier roastery is the best one to try. There's a view of roasting room and the outside seating area is like a small bar overlooking the centrar outdoor part of the mall, which is filled with water and greenery surrounding an outdoor gathering place.
11. Hello Stranger's Cafe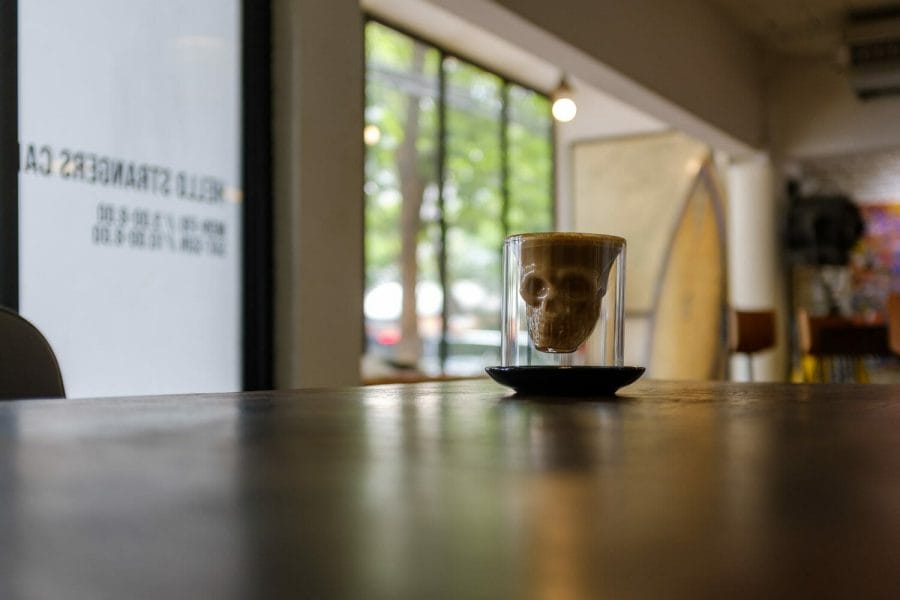 Hello Strangers stands out for the cozy atmosphere and killer espresso based drinks. Inside there are magazines to browse, artwork on the walls, and plenty of space to chill out for a couple hours.
12. Pacamara
Another great specialty coffee roaster from Chiang Mai is Pacamara. They have a handful of different locations around Bangkok and stand out both for their coffee and their gear. It's rare to see a Slayer espresso machine in Bangkok, but Pacamara has them. They've also got Kalita Wave's, Aeropresses, and other filter coffee gear to brew a wide range of options.
So, basically they can brew fantastic coffee in whatever way you want. This is from the location in Rain Hill, which is near the Thong Lor neighborhood and a great location to try.
13. Phil Coffee Company
One of the older specialty coffee shops in the city is Phils. Located deep in the side streets of Thonglor, the shop has a relaxed, cozy vibe and serves top notch beans from both Thailand and abroad.
It's pretty much the ideal neighborhood coffee shop. It's away from the main streets, but easily accessible for people that live nearby. They have a great menu with all the standard coffee drinks, plus a nice selection of beans that's diverse, but not overwhelming.
14. Glow Coffee
Glow is another fantastic coffee option right along Sukhumvit road in the heart of Thong Lor. It's not very spacious, but makes up for it with friendly staff and a great selection of drinks, including a number of pour over options. Plus, a small selection of pastries.
There are a few seats inside and a couple outside, but it's definitely more oriented toward a grab and go drink.
15. Ink & Lion
If you go to Roots, which I already mentioned is one of the original spots for specialty coffee in Bangkok, you may want to stop here before or after. In fact, you may want to have a full day of cafe hopping because this part of the city is full of killer coffee options.
Ink & Lion is a small roaster with both Thai and imported beans available. There's great atmosphere with local art on the walls, a large common table, and smaller tables throughout the shop. It's a great place to work, read a book, or socialize.
This is also a great place to stock up on filters, beans, and other home coffee brewing gear if you run out. They have roasts for both filter coffee or espresso, depending on how you brew.
16. Single Lane
Out at the edge of Central Bangkok, near the Phra Khanong BTS station, is another unique specialty coffee shop. It's in a cozy, but long space with a handful of tables leading to the back of the shop. Their menu is extensive with lots of specialty drinks and a retail section with things like plant milks and kombucha to go along with their coffee offerings.
I was really impressed with their coffee selection. They feature beans from a number of international roasters, available in both blends and single origins. I tried a coffee from Rwanda and it was one of the most impressive coffees I've tried with clear citrus flavor notes.
17. Kaizen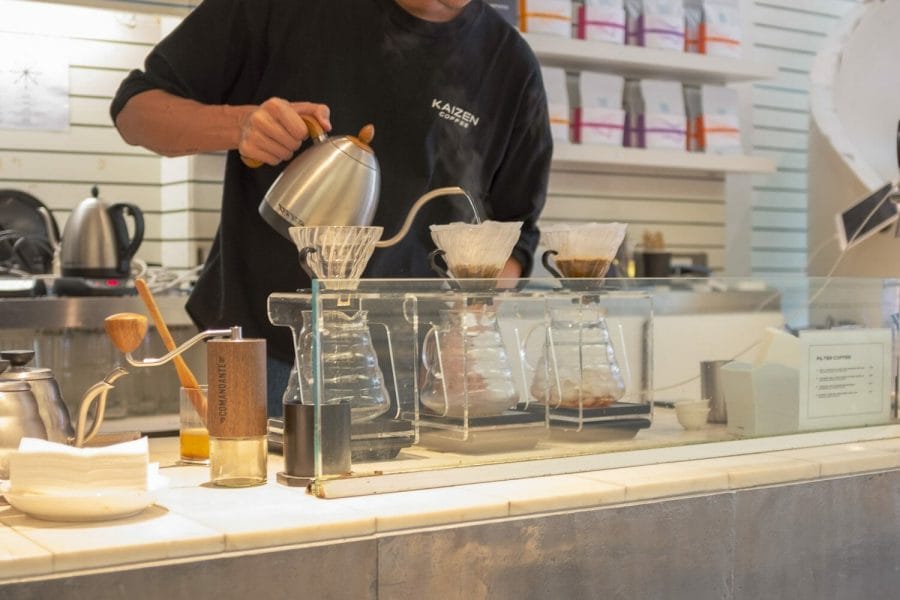 Another cool local coffee roaster is Kaizen. They have a number of different beans and roasts used for their pour overs and espresso based drinks. The cafe has a minimal vibe and two floors of seating.
They also sell their own specialty blends of coffee beans and it's a nice place to work or hang out for a while.
18. Factory Coffee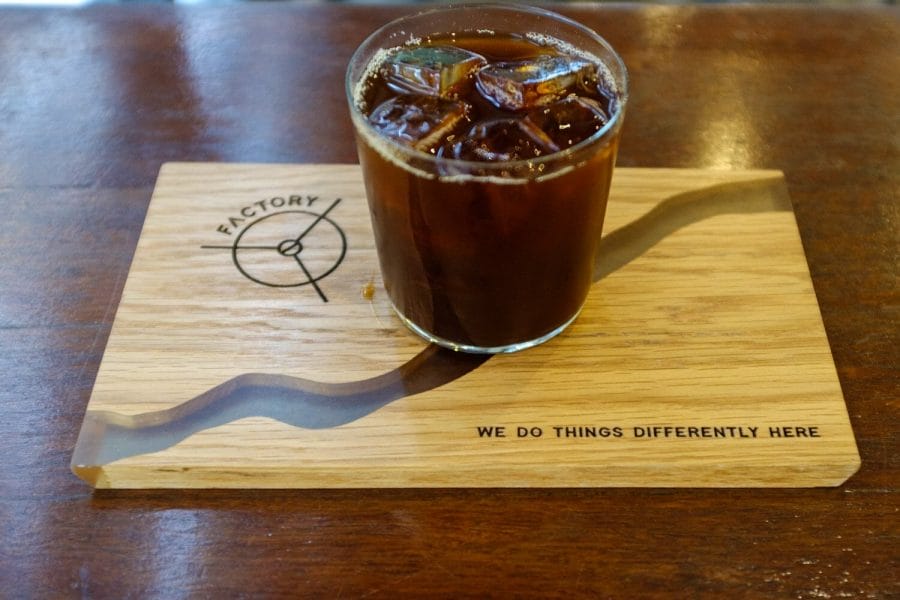 Another cafe that I've loved for many years is Factory Coffee. They offer a wide range of coffees from both Thailand and other countries in a number of different styles to suit many taste preferences. They have everything from dark roasted blends to naturally processed Thai beans and light roasted cup of excellence winners from around the world.
The cafe has moved to a new location that's right across from the airport rail link train so it's pretty easy to access.
19. Aribica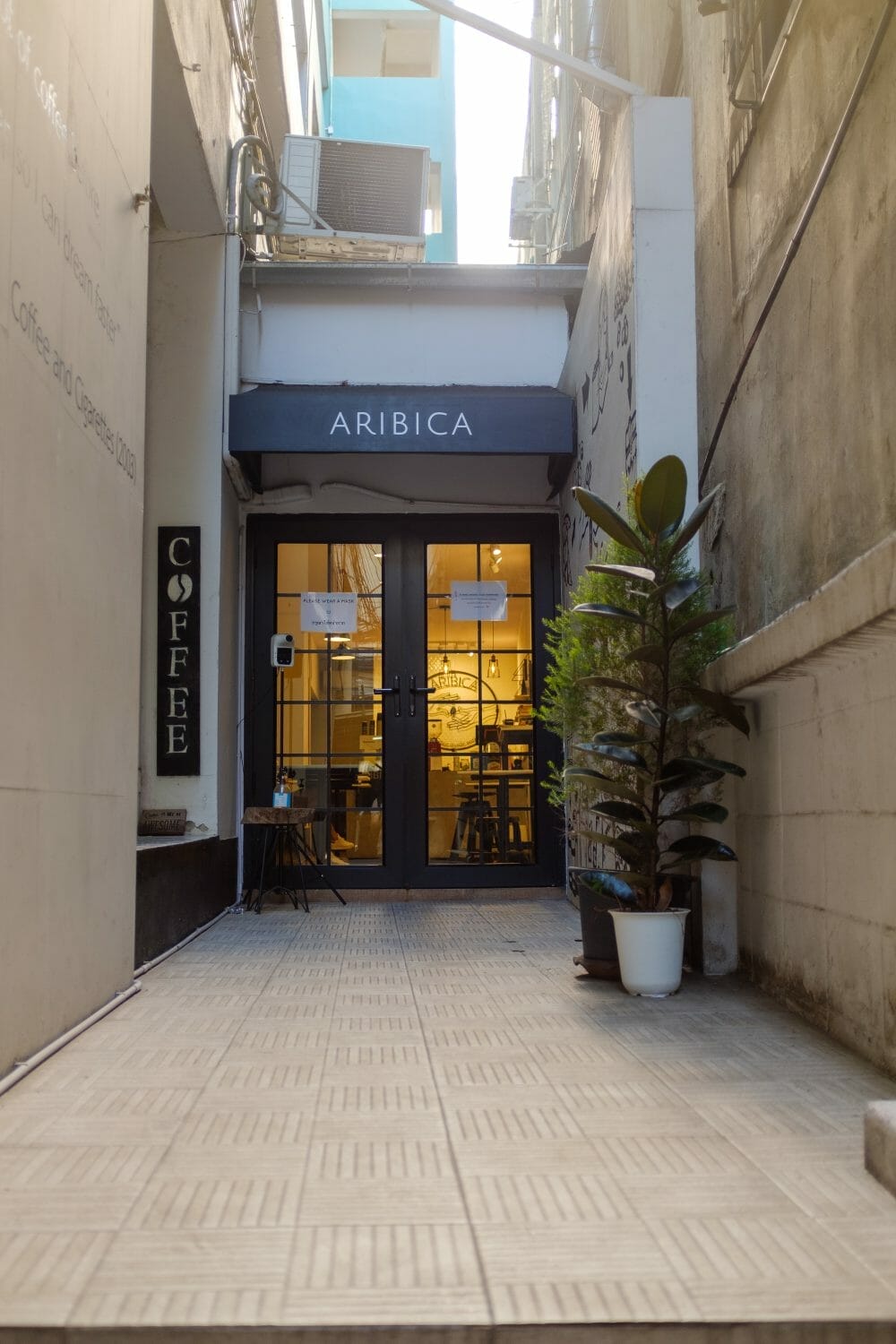 I'm not sure what the meaning behind the name is, but it's not a typo that's meant to say arabica. Whatever the meaning, Aribica is another cozy, coffee focused cafe in the Ari district.
They have a solid coffee selection and a cozy space that's great as a local cafe to hang out in on a regular basis.
20. Nana Coffee Roasters
Just outside of Central Bangkok, in the Ari neighborhood, is the main location of Nana Coffee Roasters. It's a beautifully designed, upscale space with both indoor and outdoor seating that makes it one of the most beautiful locations in the city. This also means that you should expect lots of selfies and photoshoots on busier days.
Beyond the location, they have some of the best coffees that I've tried. There's a huge menu with coffees from around the world, as well as an elaborate list of specialty drinks to go with it. It's one of the more expensive places that I've tried, but also one of the best.
21. Kaarom Coffee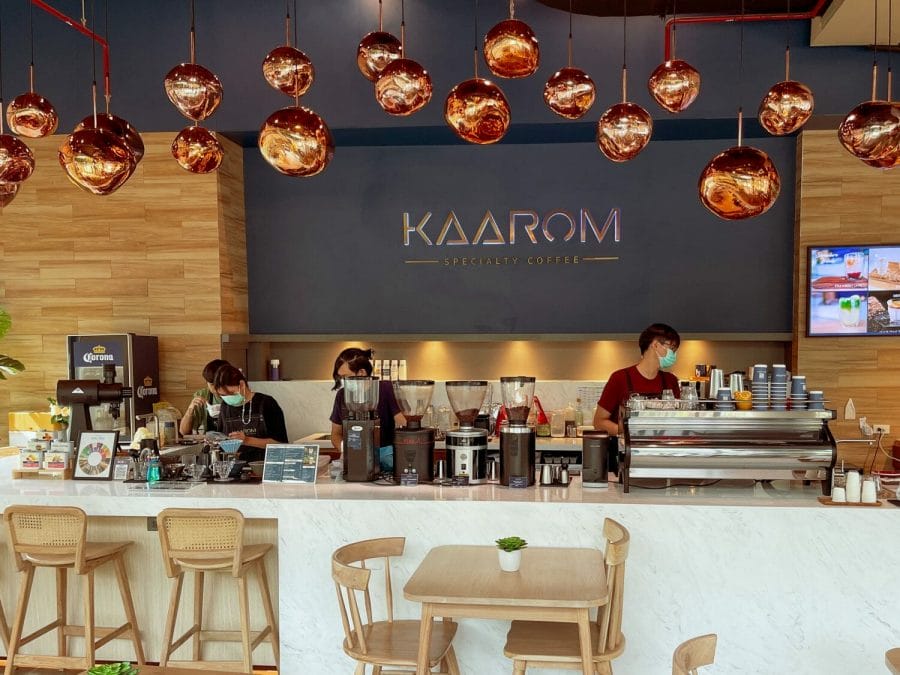 If you decide to visit the Chatuchak Weekend Market than Kaarom is the perfect coffee stop before or after. It's a spacious, beautifully designed cafe inside of Mixt mall which is right outside of the entrance to Chatuchak.
22. Phu Chai Kai
If you make your way to the Klong Tooey market and are in need of good coffee, Phu Chai Kai is the place to get it. It's a small, hole-in-the-wall down a side street near the market that serves excellent coffee.
They have a rotating selection of both local and imported beans served in a relaxed cafe run by the owner. It's also a great value for the quality of coffee.
23. Pobnar Specialty Coffee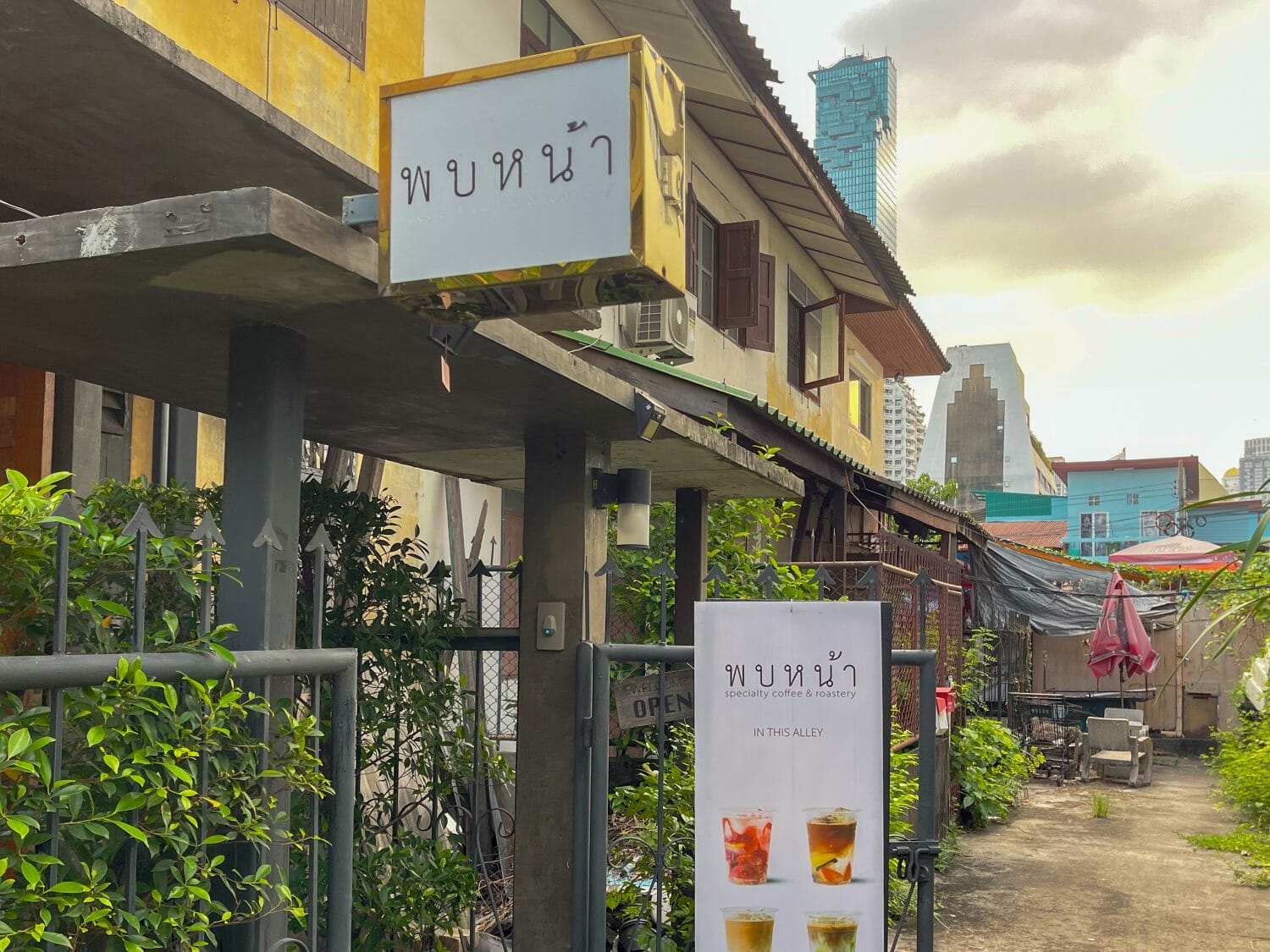 Down a small alley in the heart of Silom is Pobnar, a specialty coffee roaster that's more like a coffee lab than a cafe. The owner is very friendly and was happy to show all of his coffee gear and roasting equipment, which is extensive.
As for the coffee itself, they have a variety of specialty drinks, as well a selection of coffee beans available for various brewing methods. He recommended that I try the Thai beans over ice and I think he was right. If you're really into coffee and all the different gadgets and brewing techniques that go along with it, Pobnar is a must visit.
24. LabyRinth Coffee
LabyRinth is a unique coffee/art space in the middle of the Sam Yan neighborhood. Be sure to look closely because it's easy to miss the small door along the street, but once inside it's one of the most unique locations that I've found.
It's a dark, minimal space with very little lighting, mixed with cement and metal. The coffee bar features a rotating mix of different coffee beans from local roasters and a handful of specialty drinks. Upstairs seems to be a potential artspace, but it's currently empty. It's still cool to go upstairs and check it out, though. It's not easy to come across a big empty cement room. Definitely worth checking out if you're in the area.
25. Roots Coffee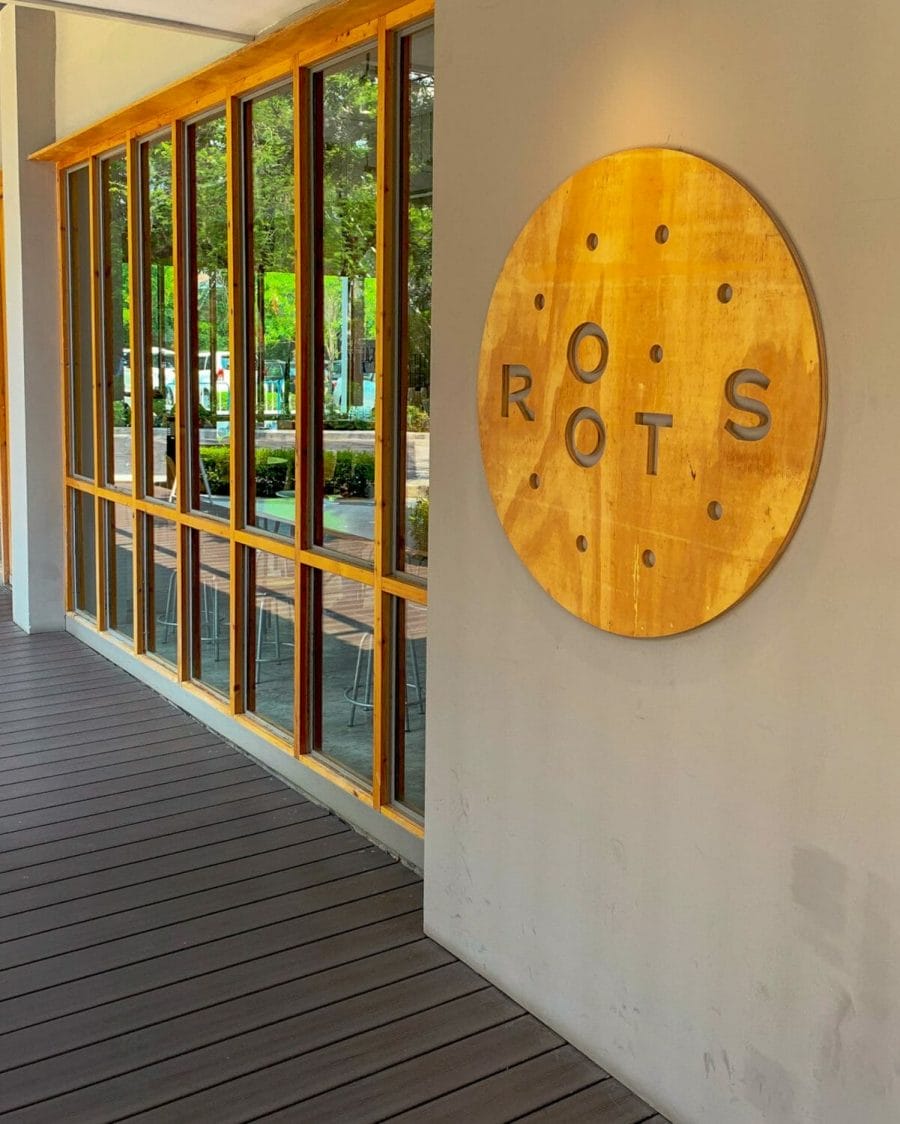 One of the first specialty coffee roasters I tried in Bangkok is Roots Coffee. Over the years they have expanded all throughout the city and continually refined the coffee they roast. They exclusively offer coffee grown in Thailand and introduce the people and stories behind each coffee.
The original cafe is in shared space called The Commons in the Thonglor neighborhood, which is a great place to check out. However, I'd recommend the Sathon location for its spacious design and central location.
26. Sarnies Bangkok
Another standout coffee roaster in a historical building is Singapore's Sarnies. This is one of Bangkok's most photogenic cafes with cement floors and walls, exposed beams and striking furniture. This vibe extends to the muted tones of the plates and drink ware.
Then there's the coffee. They are well-known for their roasting skills and there are both coffee and specialty drinks, along with excellent food and dessert options.
27. Mother Roaster
Talat Noi is one of Bangkok's most popular neighborhoods at the moment, with historical buildings and lots of street art. When you're there, Mother Roaster is the place to get coffee. In fact, it's worth a trip by itself.
They have one of the most extensive coffee bean menus, with both local and imported beans at multiple quality levels. They're all priced surprisingly low compared to similar roasters. Beyond the coffee itself, they stand out for using mostly manual brewing equipment for most of the process. They have hand grinders, manual espresso brewers and pour over equipment lined up along the coffee bar.
Then there's the building itself. Pass through a room in the midst of renovation and follow stairs up to the front of the cafe which is housed in a historical building with antique furniture. It's has a front porch area and multiple rooms which give a spacious and distinctive feel all throughout. Put that all together and you get one of Bangkok's most distinctive roasters.
28. La Cabra
I was surprised to see Danish coffee brand La Cabra while walking down the streets of Chinatown, but there it was. It's cozy, but well-designed with cement and wood all throughout the cafe.
Coffee is the main focus with a handful of dessert options to go along with it. As a Nordic brand, they emphasize light roasts and imported beans, which are rare in Thailand, so it's a great place to have European-style coffee if you've never tried it or struggle to find it.
29. As.Is Coffee Stand
This is a cozy little place in Chinatown and makes a great coffee stop if you're in the area. As you can see in the photo, coffee gear adorns the shelves behind the bar and they have a nice collection of beans available for pour overs.
They also make espresso based drinks and have a small seating area. Great to hang out for a little while if there's a seat available.
30. Happy Espresso Company
I was happy to stumble upon the Happy Espresso Company while exploring Chinatown. It's a bit off the main tourist path which gives it a quieter atmosphere than a lot of the other coffee shops. Inside is decent amount of seating and a beautifully designed coffee bar filled with a variety of equipment.
The two women running the bar were extremely friendly and made a fantastic pour over with Kenyan beans. They also had incredible scones which went well with the coffee. If you're near the Hua Lampong train station, do yourself a favor and make the medium walk here to give it a try.
31. Siam Drip Co.
Speaking of Icon Siam, there's a killer coffee bar right on top of it. In fact, there's an entire section devoted to coffee roasters from around Thailand. I didn't count, but I'd guess they have beans from 20-30 roasters from around Thailand, including many I recommended in my guide to Chiang Mai.
As for the coffee bar itself, they have a huge selection of beans and have some of the best value pour overs that I've come across in Bangkok. They also have a diverse range of specialty drinks of all kinds and a lot of coffee-related products.
32. GU Slow Bar
If you're looking for specialty coffee that's away from the main tourist areas then look no further than GU Slow Bar. It's somewhat close to Icon Siam (a huge tourist attraction), but far enough to not really have many tourists. This gives the cafe a much different feel from most of the others I mentioned.
The small shop is mostly comprised of a coffee bar with a sizable selection of coffee from around the world and a wide range of brewing options, including manual gadgets like the Rok espresso maker and the Aeropress. If you plan to visit Icon Siam, you should definitely take a trip to GU before or after.
There's a wide array of both specialty drinks, standard coffee drinks, and specialty coffee for pourovers. Not to mention, a variety of different pastries if you're feeling hungry. The mall itself is also worth checking out for shopping similar to the market outside, but without the heat…
33. Casa Lapin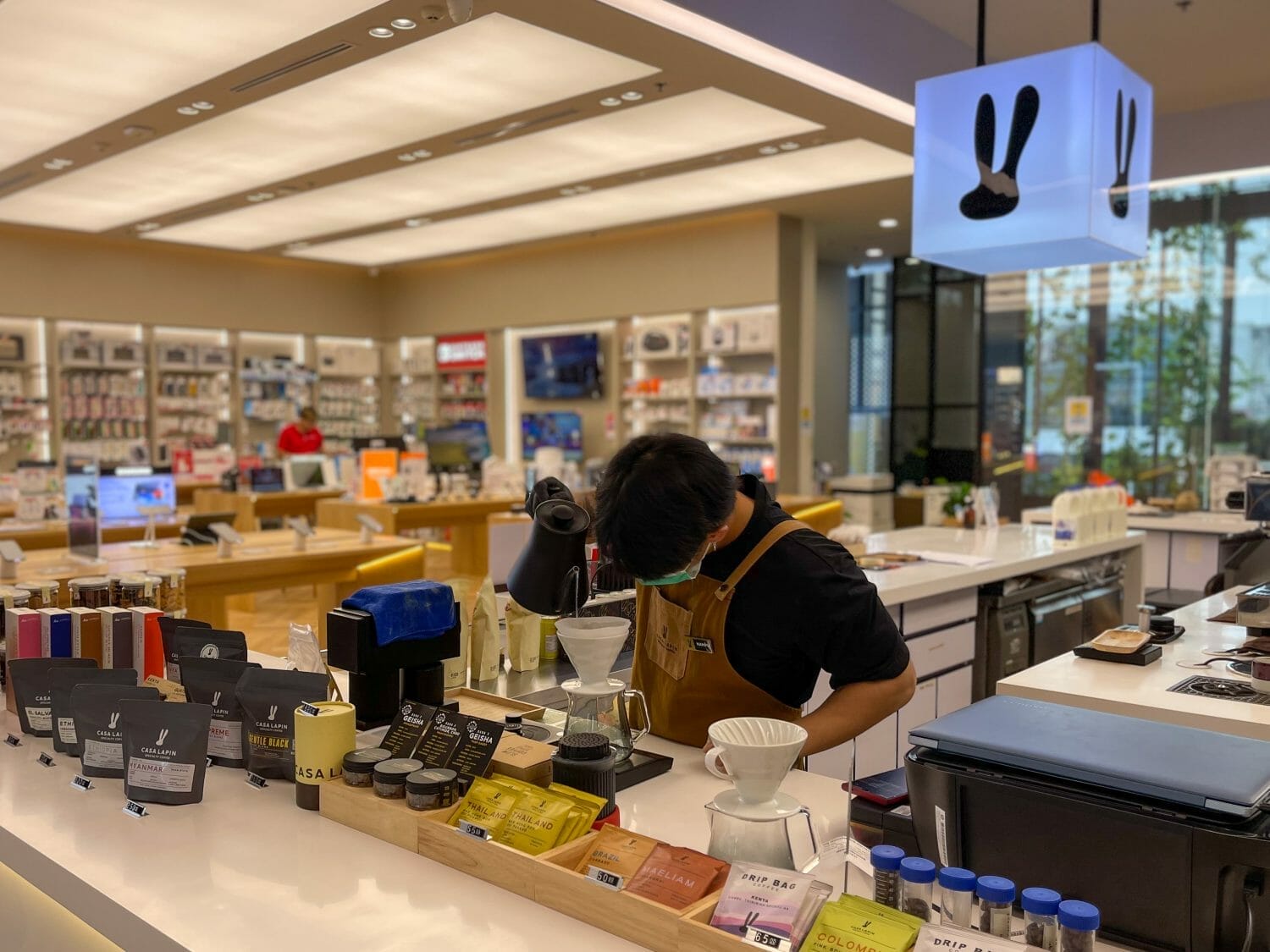 Casa Lapin is another specialty roaster with a handful of locations around the city with a variety of coffee drinks and food choices. If you want to get away from Central Bangkok, the Thapra location is a good choice. They have a fantastic selection of coffee beans and it's in the middle of mall, which is a nice escape from the heat.
Ready to explore Bangkok's coffee scene?
If you've never been to Bangkok or just never really thought of it as a coffee city, hopefully this has changed your mind. I'm not exaggerating when I say it's one of the best places for coffee in the world. Cafe design is top notch, you can find both imported and locally grown beans, and you can even find a handful of international roasters here.
And this is just the specialty coffee scene. Chain stores like Starbucks are everywhere and the locations are massive with end finishes. At the other end of the spectrum you can find traditional Thai coffee on pretty much every corner.
If you're already familiar with how great the coffee here is, hopefully I've introduced some new places to try. As I said in the beginning, this will be an ever evolving guide so there's more to come.